Technologies We Trust
We leverage the best in class technologies to build our high-performing WebRTC solutions. We partner with the world's best technology companies to develop web and mobile WebRTC solutions as per our client's specifications.










Smarter And Faster Business Communication
RTCWeb is an end-to-end WebRTC powered hybrid app development company! We have spent countless hours working on creating high-performing solutions such as, video conferencing mobile apps, involving chatbots, interactive texting, screen recording, and instant messaging solutions for our clients from different industries. We deliver quality results at every stage of the product life cycle, from inception to maintenance and sustainment.
Our Expertise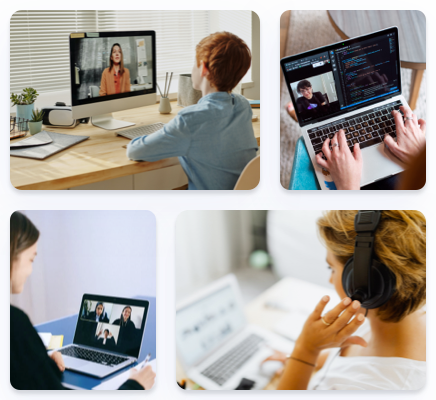 Peer to Peer Video Room based solutions.
SFU and MCU-based Conferencing and Broadcasting scalable solutions.
Customized and cost-effective solutions built using open source technologies.
Faster go-to-market with CPaaS services.
Excellent after-sales support and account management services.
Replacing legacy video platforms and protocols with WebRTC-based solutions.
ChatBots and Interactive

WebRTC voice chat

solutions.
Native and Hybrid Applications for Android and Apple-based products.
Unified communication solutions to serve all your communication needs.
Testimonial

The team at RTCWeb was genuinely great to work with, friendly, and adaptive. They came to the table with their own ideas to make the project just a bit better or more user friendly. I appreciated that they didn't treat it as though they were robots coding to the user stories; seemed like they genuinely cared about making it a good, useful product.
James Truong
Founder, Skoodio

The team is organized and collaborative, sharing design iterations and collecting input. They are hard-working and adaptable.
Elizabeth Santana
Director of Conceptual Research & Design - Inteleos

The team is flexible and responsive, creating a seamless workflow. They are understanding and organized.
Sam Altman
Founder, WeCongo
Previous
Contact us
Drop in your information and we will reach you.
Contact Information
Broadway, 14th Floor Cambridge MA - 02142 USA
888.666.4316
A Galaxy Weblinks Company